38 Websites Launched in a Single Day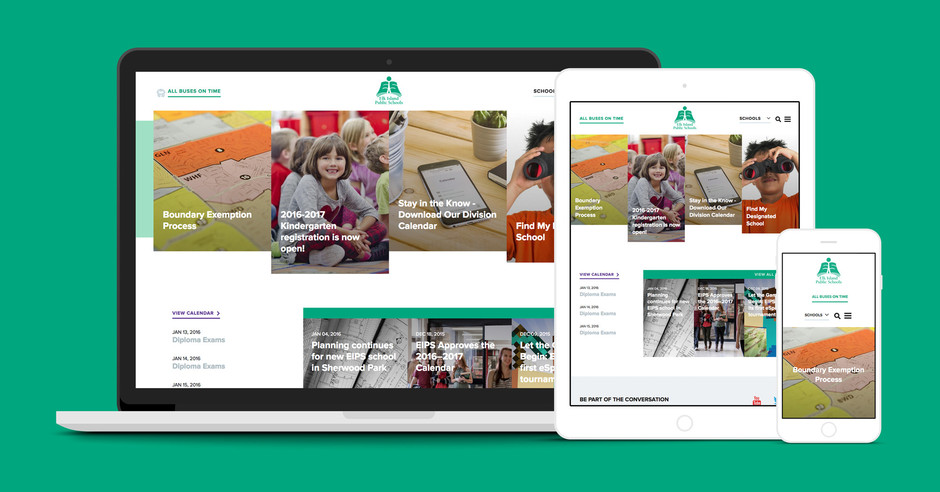 Woooeee! We have had a crazy month so far! Last month we completed our biggest WebGuide for Schools project yet-  migrating all content and launching a new district website plus 37 school websites for Elk Island Public Schools. In one day we added an additional 700 users onto WebGuide for Schools CMS and we trained over 60 people in 3 locations in two cities, wew! We also trained various departments at the district office AND launched the newest version of our Bus Status iOS and Android apps to over 3000 parents!
Elk Island Public Schools (EIPS) has been working with Box Clever since 2005. In many ways, EIPS was our very first client and one that we are incredibly proud to still be working with today. As one of our first clients, EIPS was using our very first version of WebGuide! Many website upgrades were needed to provide EIPS staff with the ease of updating on WebGuide for Schools as well to provide a much needed modernization to the school websites and the district office website. We also worked on systems integrations to reduce the workload and increase communication for staff in the district office, throughout their departments, and in the schools.
Working with EIPS staff since last summer, we were able to create a plan for migrating over 700 users, 7,000 pages, 15,000 documents, and over 7000 job applicants and for bringing the new district website and school sites to fully responsive, modern designs. We have spent the last few months working on the complex code for the migration as well as the new design and we are happy to report that the planning and coding has paid off!
The corporate website was designed to represent the progressive nature of Elk Island Public Schools as well as represent the vast region and variety of urban and rural schools that the district covers. It contains a full human resources module that allows for applicants to apply for school district jobs online directly through the EIPS website with applicant screening and selection processes occuring directly through WebGuide for Schools. The HR module is also fully integrated with Gallup's Teacher Insight and Principal Insight tools providing valuable information for the HR department. In addition, the new district office website works in conjunction with the iOS and Android Bus Status apps allowing for parents, guardians, and students to stay up to date on any bus delays or cancellations.
The schools are able to choose from over 40 design templates and can edit and maintain all of the content on their sites in the easy to use interface of WebGuide for Schools CMS. Central Office is able to send news posts, emergency notices, bus delays, and documents to each school website so that visitors are quickly notified of any issues facing the website. The news feature also integrates with EIPS's StaffConnect intranet, allowing the most recent news to be pushed to all staff members.
Now that EIPS has been migrated to our newest version of WebGuide they will receive continuous and automatic updates and upgrades as we release new features and system enhancements!
Congratulations to Elk Island Public Schools on the launch of your new corporate website and 37 school websites!
A final and special thanks to every single Box Clever boy and girl! Each and every one of our employees were involved in this project allowing it to be a huge success and be delivered one time.
About Box Clever
Box Clever is an Edmonton web design company focused on long lasting relationships and innovative website design and development.