A New Website for Bartle & Gibson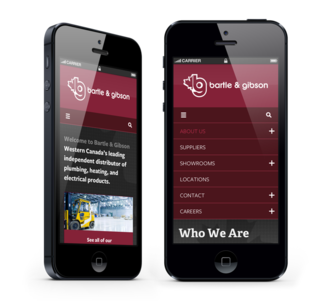 The old Bartle & Gibson website was a collection of static html pages. Managing, organizing, and updating all these individual pages was a time consuming and cumbersome task for even the most tech savvy of their staff.
Our goal was to take the huge amount of information from their current website (including the list of B&G's 208 suppliers) and build pages that would display this information in a simple, easy to understand format. A flexible website with whole sections that can easily be turned on or off based on current events and promotions at their many locations was an obvious need. We also took their massive list of suppliers from all those static pages and created a custom, database driven page that allows users to easily filter and search through results to find exactly what they are looking for.
Visitors can also use the new locations page to determine the closest branch or showroom to them, and even book an appointment. An online job posting system is also included that allows prospective employees to enter their information, including resumes, as well as search for the perfect career. Bartle & Gibson can even sell ad space to their vendors on the home page!
We also worked closely with Bartle & Gibson staff, who, through interviews and walk throughs, gave us the informaton we needed to write new and descriptive content for a company in an ever-expanding industry.
Check out the new Bartle & Gibson website with searching and filtering, map integration, appointment booking and more. Plus all of these custom functions are also available on your mobile device! Full site functionality is available to visitors on the go thanks to responsive design - give it a try on your Android or iOS device!
For more examples of innovative website design in Edmonton, please take a look through our portfolio or contact us directly!
About Box Clever
Box Clever is an Edmonton web design company focused on long lasting relationships and innovative website design and development.