Another Award Winning Website Design for Box Clever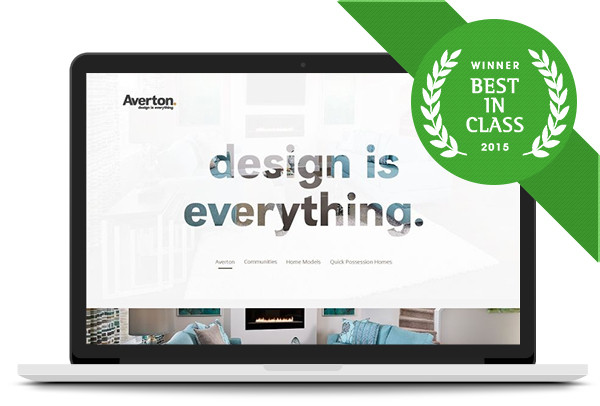 We have the results, drum roll please…
Box Clever is thrilled to share the news of our recent Interactive Media Awards (IMA) Best in Class Award for the Alberta and Ontario based home builder, Averton. 
According to the IMA:
"The Best in Class award is the highest honour bestowed by the Interactive Media Awards. It represents the very best in planning, execution and overall professionalism. In order to win this award level, your site had to successfully pass through our comprehensive judging process, achieving very high marks in each of our judging criteria - an achievement only a fraction of sites in the IMA competition earn each year."
For this prestigious home builder "design is everything" and our team took that to message to heart. The design of the website was of utmost importance as it needed to represent the extremely high value that the Averton brand places on the design of its homes. The desired outcome is a website with a clean style and modern look. This was accomplished using the perfect balance of white space for visual clarity, as well as featuring the beautiful imagery provided by Averton. Each community has its own branded landing page that conforms to its own style guide and acts as a stand-alone website.  
The IMA judges evaluate a website based on five criteria: Design, Content, Feature Functionality, Usability and Standards Compliance. The Averton website achieved extremely high marks in every single category.
In addition to all of the design elements that make the Averton website a stand-out our team is very proud of the custom functionality that was built from scratch for Averton. The Home Models Module was custom built into our content management system to offer home buyers all of the information they are looking for such as number of bedrooms, floorplans, and photos. This vital sales tool for the Averton team is updated in one common location and automatically shared out to all of the necessary pages making the administration of the site a breeze.
Good News x 2
In addition to the Best In Class Award for Averton we were also granted another Best In Class Award for our work on the Northland School Division website in the schools category. Click here to read more about the win for our Northland School Division website design.
About Box Clever
Box Clever is an Edmonton web design company focused on long lasting relationships and innovative website design and development.