Beaver County Website has Launched!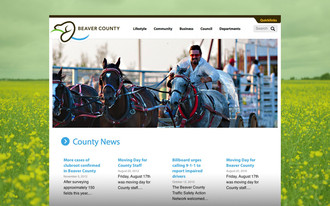 The new Beaver County website is now live!
With interesting features such as a 'Share with Us' page, the new website addresses two hot topics for municipalities: involvement and transparency. There's also an easy to use Business Directory (complete with Google Map results built right in) that will be launching soon!
The new site is easy to navigate, with just three levels of pages. Social media integration, photo galleries, and blogging are just a few of the additional features that round out this site. The site is beautiful on the go too, the responsive design makes it easy to read and navigate on your iPhone or iPad!
Read more in our Beaver County case study.
Visit the new Beaver County website, or check out our portfolio of web design in Edmonton.
About Box Clever
Box Clever is an Edmonton web design company focused on long lasting relationships and innovative website design and development.