Box Clever & Advanced Facebook Advertising at iMEDIA 2017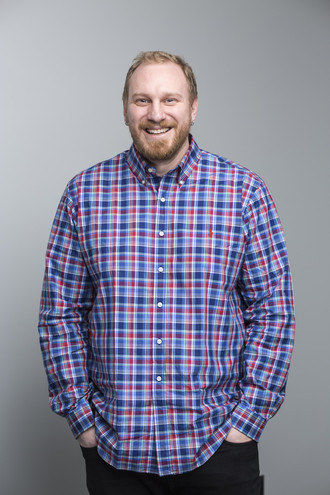 This year, our Digital Marketing Manager and social media extraordinaire, Chris Mikulin, presented at the 6th annual iMEDIA Social Media Conference. iMEDIA explores current trends in digital marketing and combines practical learning with awesome networking opportunities. Chris' presentation was on Advanced Facebook Advertising tips and tricks, covering many of the strategies we use for our clients, and, most importantly, why being on Facebook is so important to the success of many businesses.
We sat down with Chris to get the lowdown on his presentation and learn more about the ever-changing best practices in digital marketing.
Why should a business consider Facebook as part of their digital marketing strategy?
Chris: Admittedly, Facebook might not be the best platform for every business. It really depends on if the audience you are trying to reach is on their or not, and if you have the resources to manage it properly. That being said, if we were to look at the data,  82% of all Monthly Internet Users in Canada (16-64) using Facebook at least once every month (according to the GlobalWebIndex). So since the majority of people are on there, companies have a better chance of reaching their target audience.
In Edmonton and the surrounding area alone, you have the potential to reach 880,000 people aged 13-65+ by promoting a single post on Facebook!
What can you actually do with Facebook ads?
Chris: There are so many different things you can do! Facebook now allows you to choose from several different campaign objectives: from brand awareness and website traffic, to lead generation and video engagement, they do it all. Facebook even recently created the ability for businesses to track the effectiveness of ads on offline sales, allowing advertisers to see how an individual viewing an ad leads them to actually go to a store and make a purchase. We're trying this right now for a few clients and seeing some great results.
The database of information that Facebook has is HUGE there are so many targeting options available. Did you know you could target someone who just got married? Or returned from a trip to New York City? Or has a birthday coming up soon? It's crazy!
Out of all of the 'things' the most powerful piece of Facebook's ad platform, though, is the Facebook Pixel.
Why is the Facebook Pixel so important?
Chris: The Facebook Pixel is a piece of code for your website that enables you to measure, optimize and build audiences for your ad campaigns. Using the Facebook pixel, you're able to optimize ad delivery, which ensures your ads are being seen by people most likely to do what you want them to, like fill out a form or buy something. You can also create custom audiences for people who take specific actions on your website, like visit a certain product page, add to cart or purchased a product. Another cool thing you can do is create lookalike audiences, which means you can find more people that are similar to your best customers.
My favourite thing it does, though, is run dynamic product ads. This means being able to retarget website visitors with relevant and timely ads on Facebook based on the specific products they viewed on your site. I'm really excited to be finally working with a few clients on this feature - It's super powerful for e-commerce websites that have a large catalogue of products. Plus it plugs right into Shopify.
What kind of content does really well on Facebook?
Chris: People don't want to be sold to. They love to buy… but not to feel like they are being sold to. So, my rule has always been to 'give before you receive' on Facebook.
Think of it like this, you're sitting next to someone on an airplane and they open up a pack of M&Ms. Would you ask for one? How would that make them feel? AWKWARD. What if you started up a conversation, got to know them … and then 15 minutes later, they're offering them to you. This is how Facebook works and a lot of people forget that when they are trying to sell.  
What I'm saying is content that doesn't feel like you're selling and actually adds value to the customer is what can help you connect with your audience better on Facebook. Then once you nurture that relationship you can go for the sell.
What's your number one tip for someone who wants to get started with Facebook Ads?
Chris: The first thing, before you do anything else, is add your Facebook Pixel as soon as you launch your website. There is so much information you can get about your website visitor demographics, plus it allows you to retarget people who have previously visited your website giving you lower costs per conversion.
If you are interested in learning more about how Facebook Ads can help your business, give us a shout! We would love to hear from you.
About Box Clever
Box Clever is an Edmonton web design company focused on long lasting relationships and innovative website design and development.