Campus Tower Suite Hotel Gets a Refresh with a New Website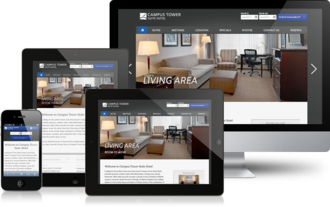 The new Campus Tower Suite Hotel website is now live!
Uniquely situated on the University of Alberta campus, the Campus Tower Suite Hotel has a multitude of amenities to offer its guests, and they wanted their website to provide that information to potential clients. In order to ensure the most current information was displayed, Campus Tower Suite Hotel chose to use our WebGuide CMS (the system that powers all of our websites). The easy to use interface means that staff of all technical backgrounds will have the ability to update the website with timely information. 
Along with current content, the new website now features up to date photographs of the building, guest rooms, and meeting rooms. The site has been given a modern, clean look that ties in with the existing logo. Navigation has been streamlined as well, ensuring that visitors can find what they re looking for with fewer clicks. 
Need to book a hotel room from your phone? No problem! The site has been optimized for iOS (and other mobile devices), so the site looks clean and concise on different screen sizes, and is easy to navigate even from your phone!
Features such as social media integration, blogging, and most importantly, a new booking form, help keep Campus Tower Suite Hotel in touch with their clients. More than that though, clients can now use the new site to find specials and entertainment in the areas surrounding the hotel, rather than reverting to external sites or search engines. Add in some SEO work and Campus Tower Suite Hotel is poised and ready to use their online presence to leverage their location!
Take a moment to visit www.campustower.com to check out the new site and features! If you like what you see, or want to see more, look at our portfolio of web design in Edmonton. 
About Box Clever
Box Clever is an Edmonton web design company focused on long lasting relationships and innovative website design and development.