Impact Consulting Launches a New Website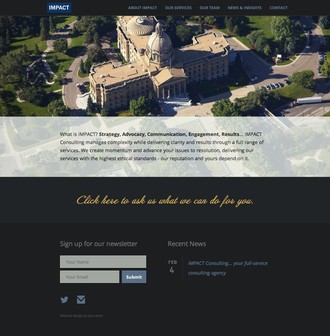 Impact Consulting, an Alberta consulting firm with experience ranging from local to international, has just launched their newly designed, responsive website!
Initial consultation revealed that a website with advanced features needed to be delivered on a tight schedule, and most of all it needed to be easy to use. The Impact Consulting team has to be able to remain current and relevant, which means their content has to as well. WebGuide CMS, our easy to use content management system, provides Impact (and all our clients!) with the tools they need to manage their content independently and in real time.
Responsive website design makes the site easy to navigate and read on your iPhone or iPad too! Take a look at the new Impact Consulting website.
Please visit our portfolio for more of website design in Edmonton, or give us a shout if you have any questions!
About Box Clever
Box Clever is an Edmonton web design company focused on long lasting relationships and innovative website design and development.