Lethbridge Airport is Now Online!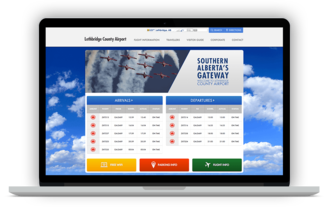 Lethbridge County Airport, which has been operating in Southern Alberta for nearly 75 years, can now boast a new, responsive website to better serve its passengers.
The new website takes much of its information from sources already used by the airport - such as the screens which display arrivals and departures. The information is displayed prominently on the front page, and automatically updates  to provide real-time information to visitors. County staff can also easily update the content on the website, with most changes requiring only a few clicks!
Lethbrigde County expects an increasing number of website visitors to use smart phones to check flight statuses and weather, so the website uses responsive design to make sure all information is easy to read. Check it out on your iPhone!
Please visit our portfolio for more web design in Edmonton, or give us a shout if you have any questions!
About Box Clever
Box Clever is an Edmonton web design company focused on long lasting relationships and innovative website design and development.