New Website and Logo for Alberta Student Energy Conference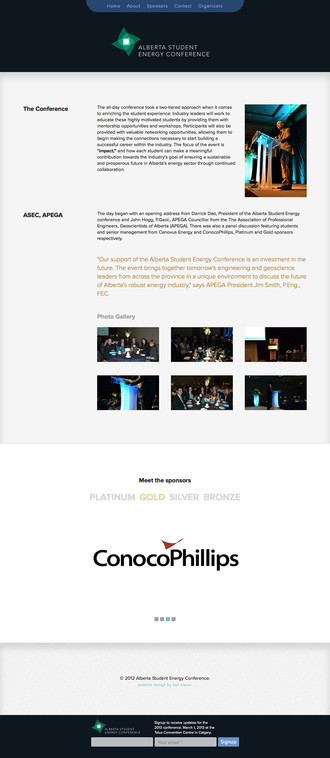 The Alberta Student Energy Conference (ASEC) is about students gathering together to precipitate change in the oil and energy industry. The new website allows ASEC to share information relating to both past and future conferences, as the next one is scheduled for March 2013. The website is constructed to gather different information on the same page without conflicting the messages or fighting for the visitors attention. However many pieces there may be, information is presented one by one and offered in easily digestible bits. From the story of ASEC to photo galleries and sponsors, visitors will be able to see everything they want in one place without confusion.
ASEC has a new logo to work with their new website as well. Designed to reflect how and why the students are gathered together, the logo represents a drop of oil pointing in all directions, like a ripple on water. 
With updates to their identity as well as their website ASEC is ready for the next conference and the new year. Check it all out at the new Alberta Student Energy Conference Website.
About Box Clever
Box Clever is an Edmonton web design company focused on long lasting relationships and innovative website design and development.