Petrospec Engineering's Website is Live!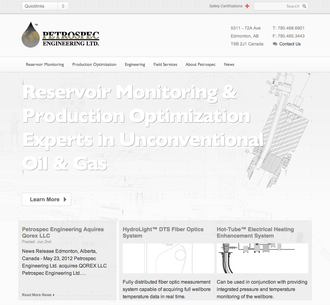 Petrospec Engineering Ltd. designs, manufactures, and installs specialty oil field solutions right here in Alberta, and their new website communicates that to anyone who visits it!
Because Petrospec Engineering has a work-flow that takes them from conception to implementation, the new website had to communicate their level of involvement immediately to viewers. What better way to accomplish this than to use their own drawings as a design basis! The schematics show the level of detail Petrospec is known for, so that aspect of their business became the inspiration for their website.
The design of the new Petrospec website is consistent throughout with the look and feel of design drawings for the industry. As the industry is highly specialized, so is the website! This custom design can only come from a great working relationship and a flow of ideas from both parties. The design drawings uploaded to illustrate their products fit in beautifully with the overall design of the website.
Petrospec staff don't have to worry about keeping the content current either! Built on WebGuide CMS (the content management system that powers our websites), any updates are easy and fast. In half a day Petrospec was ready to take control of their new website, with training completed in just over 4 hours! 
See the custom design at www.petrospeceng.com. You can also see more of our custom work in our portfolio of website design in Edmonton!
About Box Clever
Box Clever is an Edmonton web design company focused on long lasting relationships and innovative website design and development.