Site Launch for Canadian Cancer Society Initiative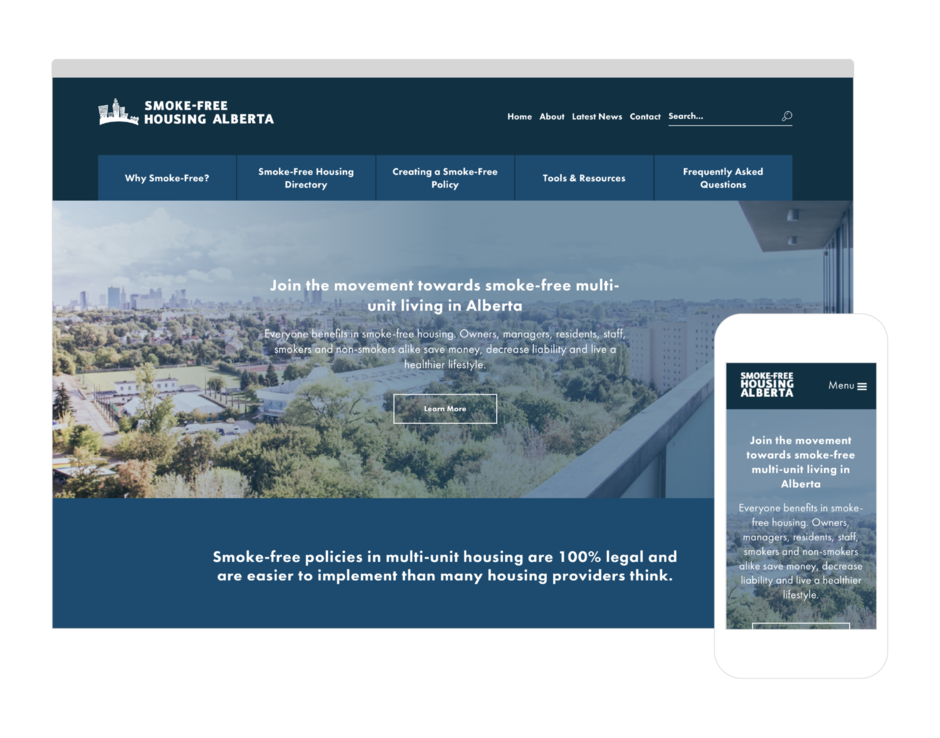 Brand New Website for Smoke-free Housing Alberta
The Canadian Cancer Society is focused on research, prevention, and advocacy. As part of their mandate in promoting strategies for cancer prevention and living well, they have created the province-based Smoke-Free Housing initiative which educates property owners and the public about the benefits and policies of smoke-free living options. Existing in provinces such as Ontario and British Columbia, we were thrilled when we were approached by the Canadian Cancer Society to design the website for the new Alberta initiative.
Increasing the awareness and the accessibility of smoke-free living options is crucial in the delivery of the Smoke-Free Housing mandate.
The new website for SFHAB is engaging, structured to tell a story, and provides site visitors with excellent tools for accessing information.
Our custom illustrations were a crucial element in building a memorable online brand for SFHAB. Animations and smooth hover states can be found throughout the site to further enhance the user experience when browsing.
We built a province-wide housing directory with the ability to filter and search for properties based on housing type, accommodation options, and more. The Tools & Resources section allows administrators of the site to intuitively organize all downloadable content based on property type and tag, providing a great browsing experience for site visitors!                                                
To top it off, the site is completely mobile friendly, collapsing beautifully into any screen size.
Congratulations on the new website, SFHAB! Our team is so happy to have been a part of launching this new initiative.
Visit Smoke-Free Housing Alberta: www.smokefreehousingab.ca
About Box Clever
Box Clever is an Edmonton web design company focused on long lasting relationships and innovative website design and development.