Site Launch for National Health Initiative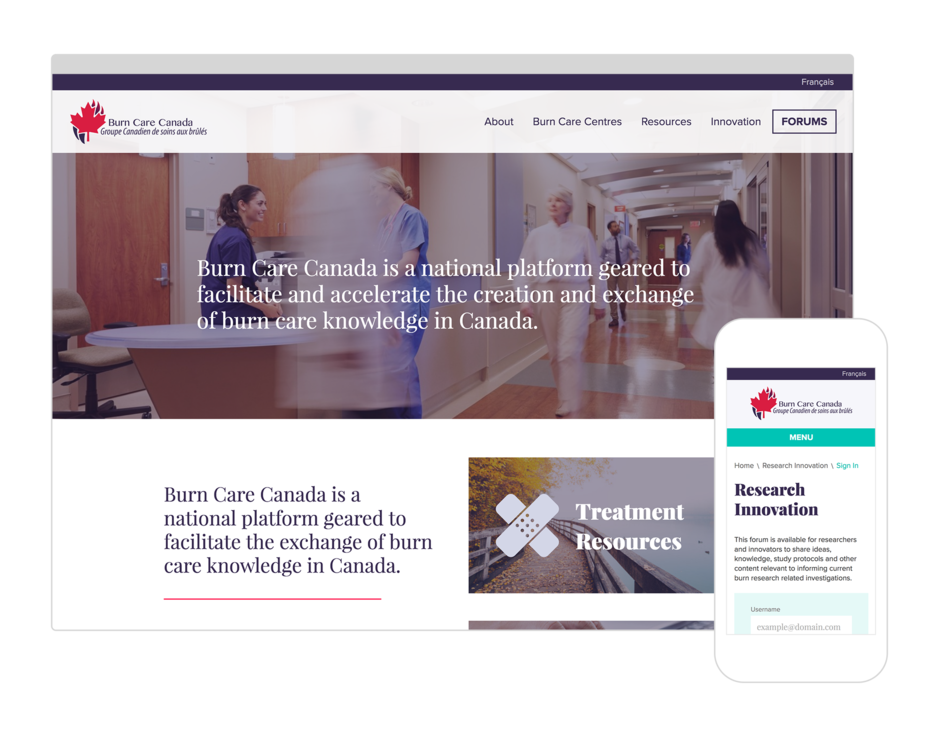 Burn Care Canada
Supported by the University of Manitoba, Burn Care Canada is a national network of burn care providers, fundraisers, survivors and other partners in research. This organization facilitates the advancement of medical techniques, knowledge sharing, and ongoing support. The treatment and ongoing care of burn patients is a niche specialization, with experts usually isolated from one another across the country.
In 2016, Burn Care Canada reached out to us with the vision of developing a bi-lingual platform that would bridge the gap between burn care providers. With such a platform, health practitioners and those who are living with burns would be able to access vital resources and support.
In our planning phase with BCC, accessibility and ease-of-use was identified as a major priority. There are two distinct audiences that would be visiting the website and as such, the front-end of the website had to be clean and logically laid out.
For people living with burns and their family members, a listing of Burn Care Centres in each province and Treatment Resources are easily accessed via the main navigation and homepage. Both listings are simple to use with search, category, and filtering options. BCC website administrators are now able to effectively connect people with the information they need.
For health care professionals, it was essential to provide a central hub that encouraged and expedited knowledge sharing. A number of password-protected forums are available on the website for researchers and innovators to share ideas, best-practices, study protocols and other content relevant to informing current burn research related investigations. These forums are collaborative spaces that allow approved members to have real-time discussions instead of relying on in-person exchanges at annual conferences.
We are proud to have helped this national organization create a means to deliver current burn care and recovery information. With their new site, Burn Care Canada is enabled to actively influence advancements and progress amongst specialists and researchers – while providing vital support to thousands of Canadians on the road to recovery.
About Box Clever
Box Clever is an Edmonton web design company focused on long lasting relationships and innovative website design and development.