Windrose Community Website Goes Live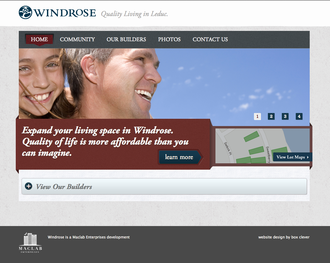 The new Windrose Community site features an inviting and clean layout, much like the layout of this southwest Leduc neighbourhood!
Besides the design, you might be interested in taking a look at the interactive map. It s been designed to quickly show you which lots in Windrose Community are sold, for sale, on hold or a show home. You can also click on specific lots to find out more information such as price, plot plan and lot sizes!
If you just can t get enough of interactive maps, they have also been added to another Leduc website design: the Suntree Community website.
This brand new land development website module for WebGuide allows our clients to easily update lot information based on GPS coordinates from their surveyors. In just a few clicks they can update lot statuses, add or delete lots, or add a whole stage to the community.
So check out the new www.liveinwindrose.ca website (powered by our very own WebGuide) and feel free to browse through our Edmonton website design portfolio.
About Box Clever
Box Clever is an Edmonton web design company focused on long lasting relationships and innovative website design and development.