Yvonne's Furniture Launches New eCommerce Website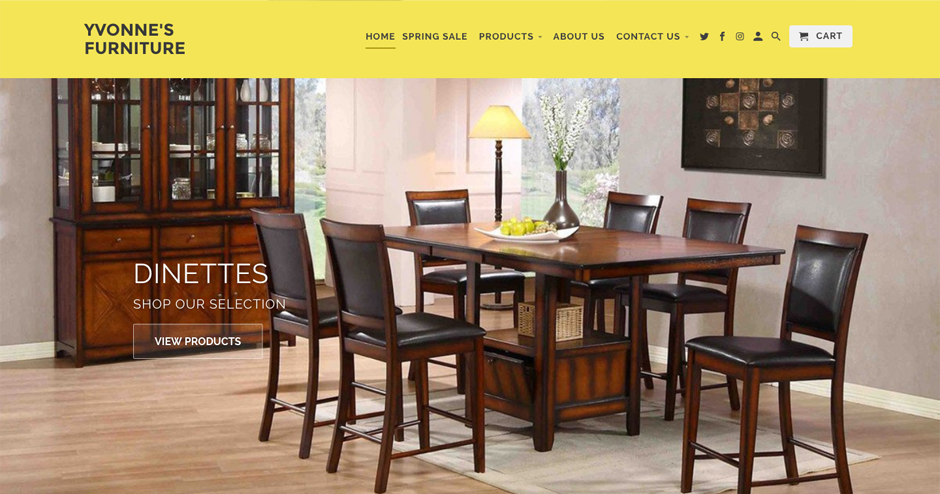 Yvonne's Furniture is an Edmonton based furniture company that has been family run for over 25 years. With more and more purchases as well as competition online, Yvonne's Furniture needed a new visually appealing and responsive eCommerce solution.
The old website wasn't working for them.
Box Clever helped Yvonne's furniture in the overall guidance and introduction to a new eCommerce solution. Previously, Yvonne's Furniture used a Homestead hosted site where administrators had to hand edit the site to add, edit and delete products. Using a system that consisted of mostly flat HTML files was arduous and frustrating to make simple content and product updates. Further to this, customers weren't able to purchase items online, make carts or complete orders.
Making the switch to an eCommerce website solution.
Box Clever moved Yvonne's Furniture to Shopify - an easy to use eCommerce solution. By making the switch to Shopify, Yvonne's was able to easily manage their product listings, add new products and make quick adjustments to their content. Box Clever worked with Yvonne's to choose a design that was more modern, up-to-date and visually appealing for site users. Box Clever ensured that the design perfectly accentuated Yvonne's brand and unique offering. With large photos, easy tagging, and automatic catalogues, Yvonne's Furniture could feature products and add new products to different catalogues with minimal effort. For items that were only available in-store, Box Clever created a specific tag that could be tied to any product. By simply adding the 'INSTOREONLY' tag to a product, a custom message would appear and hide the "Add to Cart" button. Box Clever trained sales staff on how to create orders in the easy to use Shopify admin panel. Sales staff could then save quotes/carts for customers over the phone or while they were in the store. Customers could then return home, make sure their newly picked out furniture would fit perfectly in their home, and then complete the purchase by checking out their already populated cart with one click. The Shopify platform is an eCommerce solution that takes the hassle out of the equation for both site administrators and customers.
Congrats on the new website Yvonne's Furniture! 
About Box Clever
Box Clever is an Edmonton web design company focused on long lasting relationships and innovative website design and development.