A new beautiful, professional, dynamic website to promote the core activities of Land Stewardship Centre
---
About the Client
Established in 1996, Land Stewardship Centre was created from a need to develop and foster a stewardship ethic that would help people manage our natural capital (land, air, water, biodiversity) in a way that would conserve all its values – environmentally, socially, culturally, and economically.
Today, Land Stewardship Centre continues to foster, develop and facilitate vital partnerships, resources and grass-root stewardship organizations to promote and apply the principles of stewardship that results in greater understanding and more sustainable management of our natural resources.
About the Project
The previous website had served them well but was no longer telling a clear story about Land Stewardship Centre, where they came from, who they are and what they do. 
The new website was designed to clearly present how Land Stewardship Centre:
Engages in collaborations
Informs through community stewardship
Enables with stewardship tools and resources
w3 Awards 2022 Best in Show Winner
General Websites-Environmental & Sustainability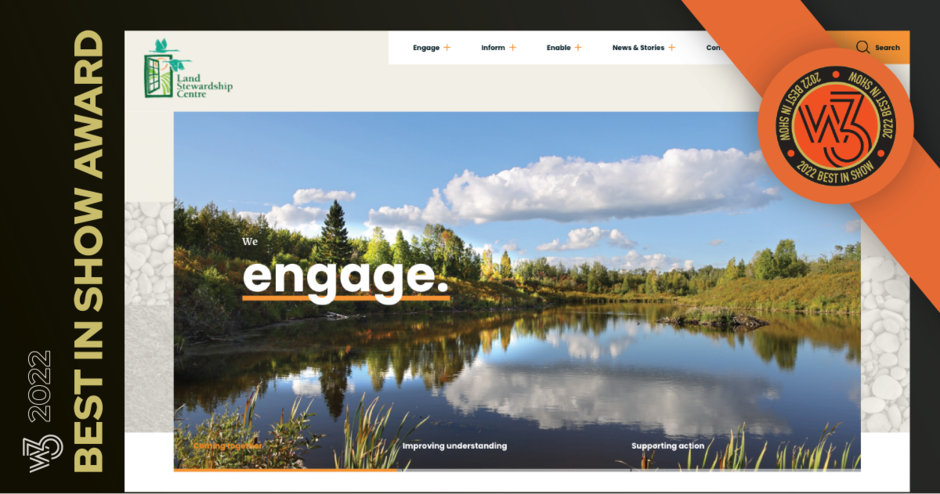 ---
"This is the third website I've worked on with Box Clever in the past two years. All have been incredible but the new Land Stewardship Centre website is something that stands above.

I am captivated by the site and grateful to have had the opportunity to collaborate with the incredibly talented Box Clever team to bring it to life." 

- Kristina Dembinski, Land Stewardship Centre
Engage
Custom graphics, textures based on natural themes, a welcoming and warm colour palette, have been combined with subtle animations, and strong imagery to maximum effect for the new homepage experience.
When visitors first arrive on the new Land Stewardship Centre website, they are greeted by a large rotating hero banner using a subtle zoom animation to create the feeling of the environment opening up before you, as if you've just walked out into the various Alberta landscapes being presented.
Visitors to the site feel an immediate feeling of engagement, enticing them to step further into the site and see the bigger picture that is Land Stewardship Centre. The site has also been made to be completely mobile friendly, collapsing beautifully into any screen size.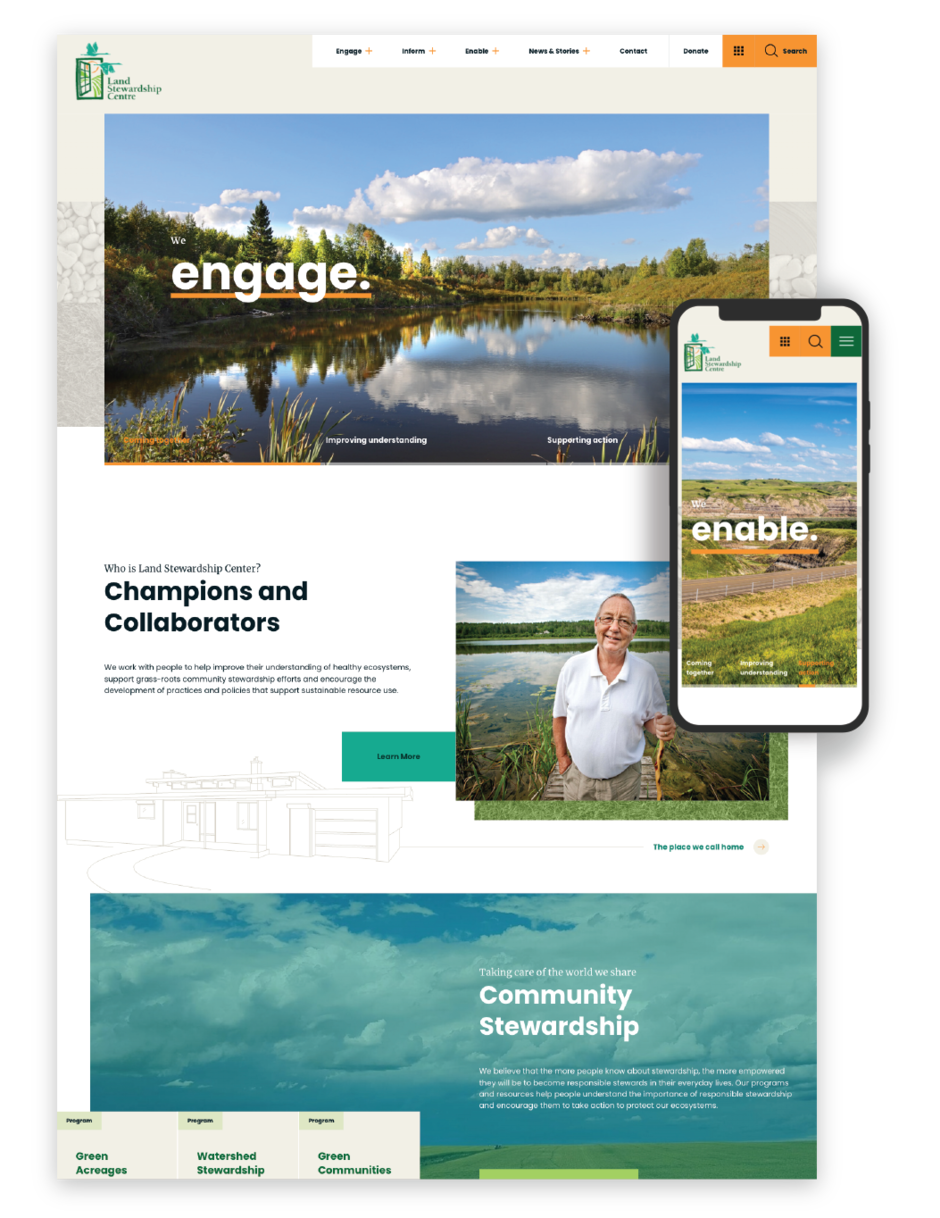 Continued scrolling is promoted with subtle fade-in animations, and key enticer sections have been designed to highlight the Community Stewardship and Collaborative Management areas.
Custom icon tiles present the major programs, and a custom linework graphic of Imrie House, immediately recognizable to those who have visited Land Stewardship Centre, creates a strong visual that also speaks to the history of stewardship connected to Land Stewardship Centre.
Inform
It was important with the new website to be able to tell the history of stewardship, not only of the activities associated directly with Land Stewardship Centre, but also of the large key moments in provincial and Canadian stewardship history.
Our team created an interactive timeline to provide visitors with a unique way to step through each of the various entries in the history of stewardship connected with Land Stewardship Centre.
Each section on the timeline is created with a custom combination of imagery, natural textures, colour choice, and hand drawn graphics. Each entry can be expanded to show in a styled popover element complete with an optional defined call to action button link.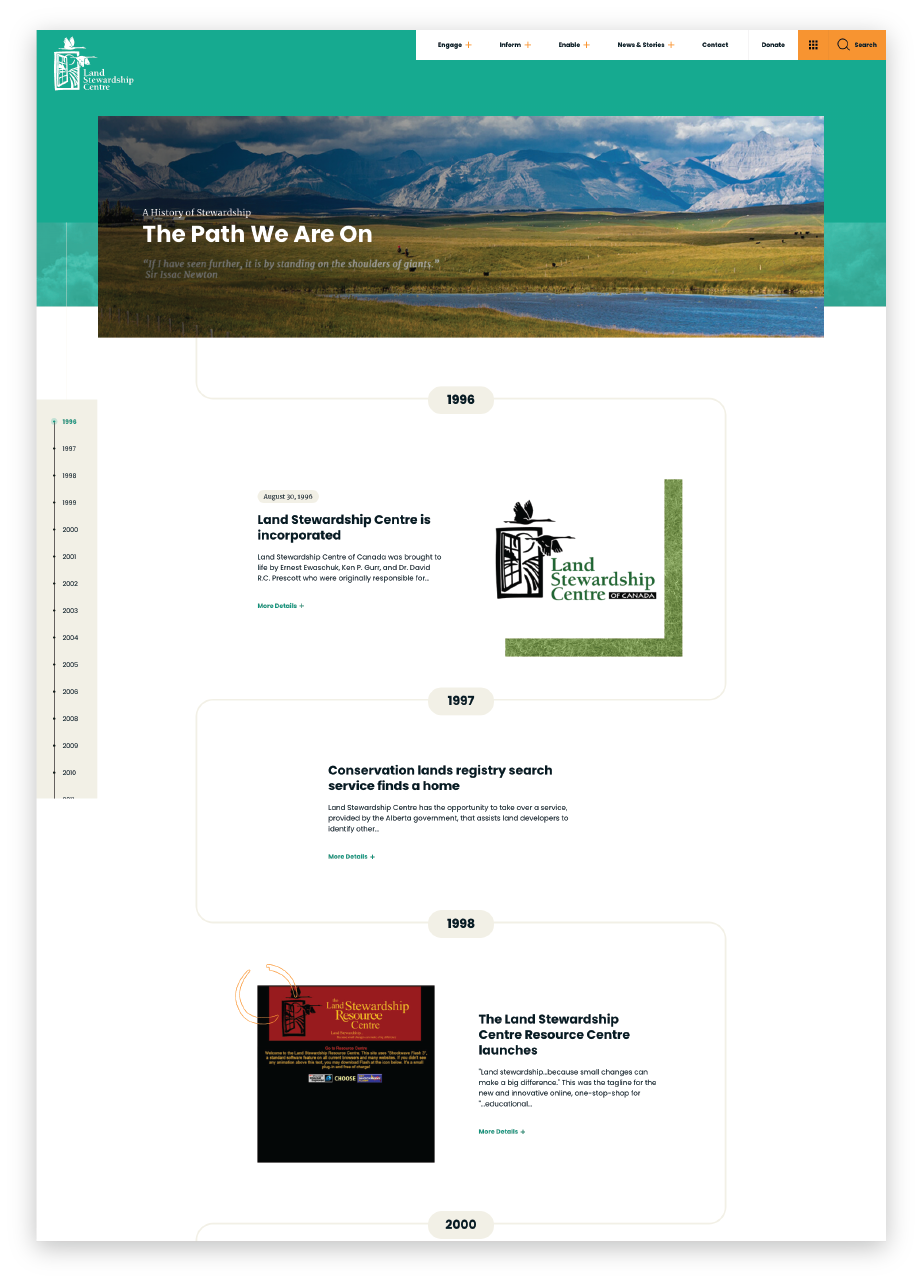 Enable
Of equal importance was to highlight the Stewardship Tools and Resource area. An easy to browse solution, with custom image tiled display was created as a way to promote the various tools and resources such as the programs offered by, through, or in partnership Land Stewardship Centre.  
Website resources such as the Green Communities Guide provide a link out to the service, where others like the Green Acreages Guide Primer, provides a direct file download.
A small interactive info icon provides further expands information about the specific tool or resource alongside the appropriate view or download call to action.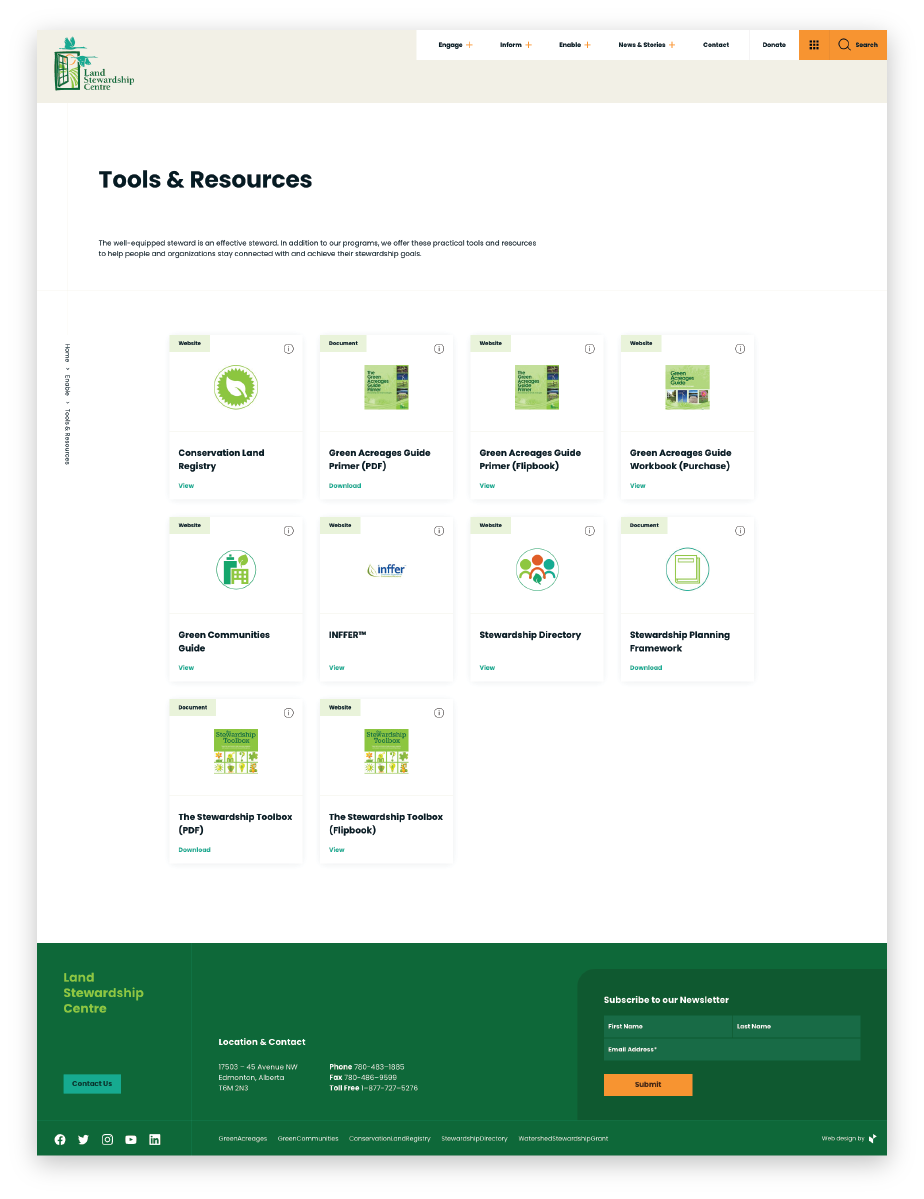 As a result of the close collaboration between our team and Land Stewardship Centre, the new website:
Engages its audience with a beautiful, modern, professional, and dynamic design.
Informs its audience with a clear story about Land Stewardship Centre, where they came from, who they are and what they do.
Enables the growth and development of new and existing stewards with access to a high quality set of stewardship tools and resources.
About Box Clever
Box Clever is an Edmonton web design company focused on long lasting relationships and innovative website design and development.