Church on 99 becomes Celebration Church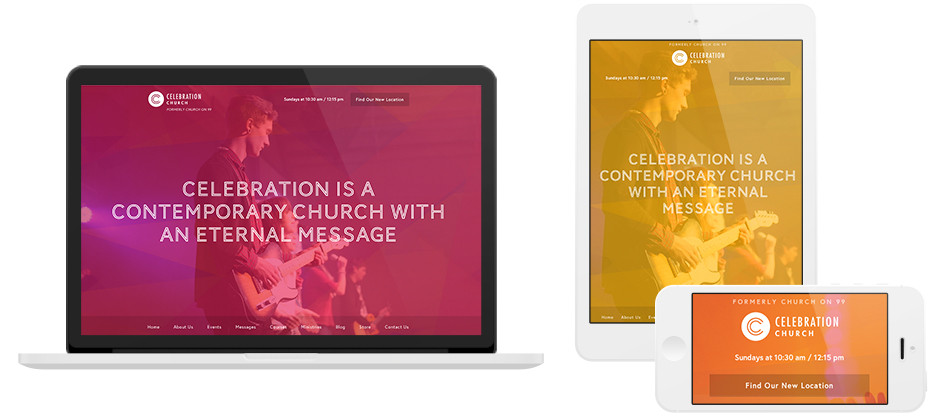 Celebration Church, formerly Church on 99, has just launched their new brand and website to coincide with a name change and a venue change. What a week for them!
Website Design
Church on 99 developed their first website with Box Clever way back in 2007. The website had served the church well for six years, and had even been displayed in online design galleries.
The new Celebration Church website is focused on one of their main themes, that it feels more like a rock concert than a church. The website is modern, vibrant, and gives users a good sense of what's going on around the church. Video and audio sermons can be accessed easily and important information (like where the new location is) is easily accessible throughout.
There are some pretty neat visual features on the website too! The homepage colours shift subtly, so it's vibrant, but not overwhelming. Images on the website are also retina friendly so the website is crisp and clean on new iOS devices and other high-density displays. Large images overlaid with the new Celebration Church colours are found throughout the site, from customizable feature banners on inside pages to the large, randomized image on the home page.
The website, from podcasts to colour shift, is all optimized for those visiting the site from their phone too. By designing the site to be fully responsive we've ensured that people using iPhones or iPads will not lose any of the personality of the site in favour of visiting the site on the go!
Church Rebranding
To help Church on 99 rebrand and connect with progressive generations we placed less emphasis on the word 'church' and more on the emotion tied to 'celebration'. This energy is conveyed through vibrant colours and shapes in all the photos, graphics, and even the website design. We also carried the branding theme through to letterhead, business cards, envelopes, and a multitude of other graphics that the church is using on social media and in the new building.
From print to web, and everywhere in-between, their presence and brand is underlined with excitement and emotion, and the promise of a brighter future.
Read more about the new brand and church website in our Celebration Church Case Study.
About Box Clever
Box Clever is an Edmonton web design company focused on long lasting relationships and innovative website design and development.