A friendly and vibrant rebrand and website for this Church for the Unchurched.
---
About the Client
Celebration Church is the new name of Church on 99, a modern, contemporary Edmonton church. They focus on socially relevant sermons that impact every day life while engaging in powerful worship music. Their new home is a 50,000 square foot facility that comes with a state of the art auditorium, a stylish lobby and coffee shop to hang out at, a fully supervised Sunday nursery, and a lively youth centre for teens to hang out and be teens.
About the Project
Church on 99 developed their first website with Box Clever back in 2007. Featuring podcasts and integrated video, as well as an online store, the old Church on 99 website served the group well for over six years. The new website and brand focus on the welcoming and energetic nature of the organization. Using bright, bold colours, responsive design for mobile browsing, and incorporating an online store all helped to create a modern website for this contemporary church.
---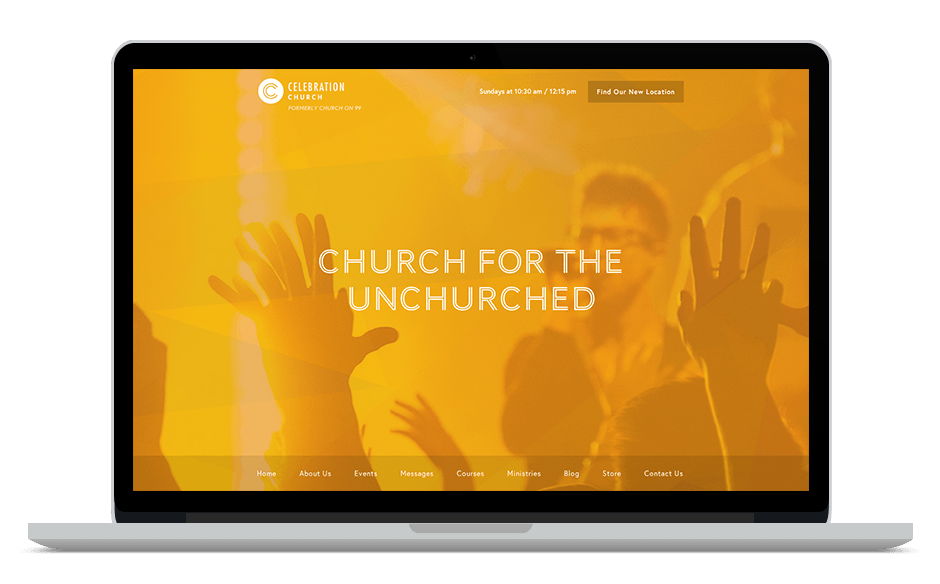 The new Celebration Church website uses subtly shifting colours and photography to convey the energy and passion of the church. From busing information to course registration the website is modern, friendly, and easy to navigate.
---

We've used SVG (Scalable Vector Graphics) throughout the website to ensure that it displays as cleanly and crisply as possible. SVG is retina-friendly, so the website looks great on iOS devices too! Celebration Church also produces a unique look and feel for each to sermon group - so we made it easy for them to load up album artwork of each sermon series. The sermons then automatically populate their podcast linked to iTunes.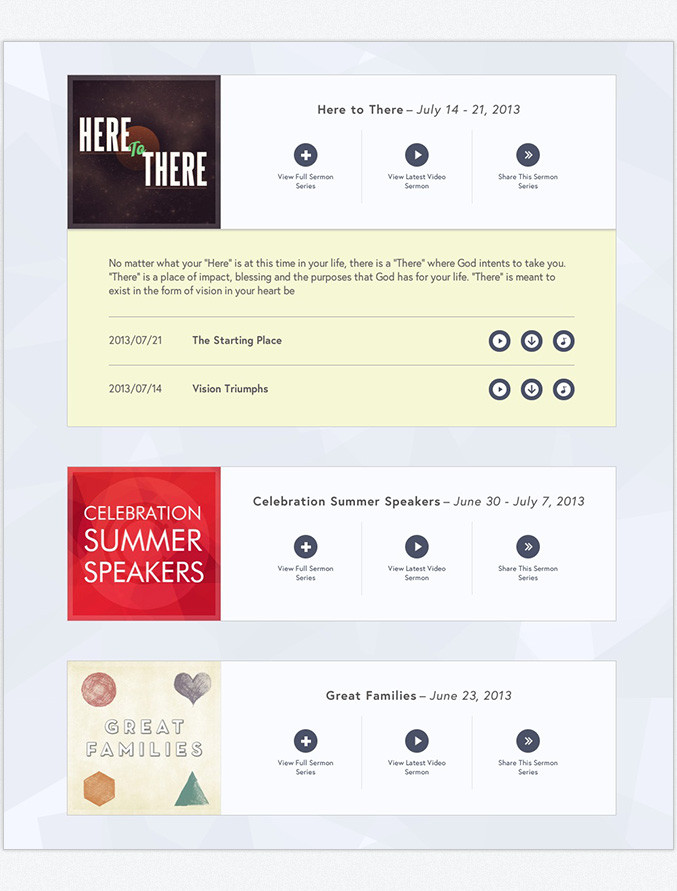 ---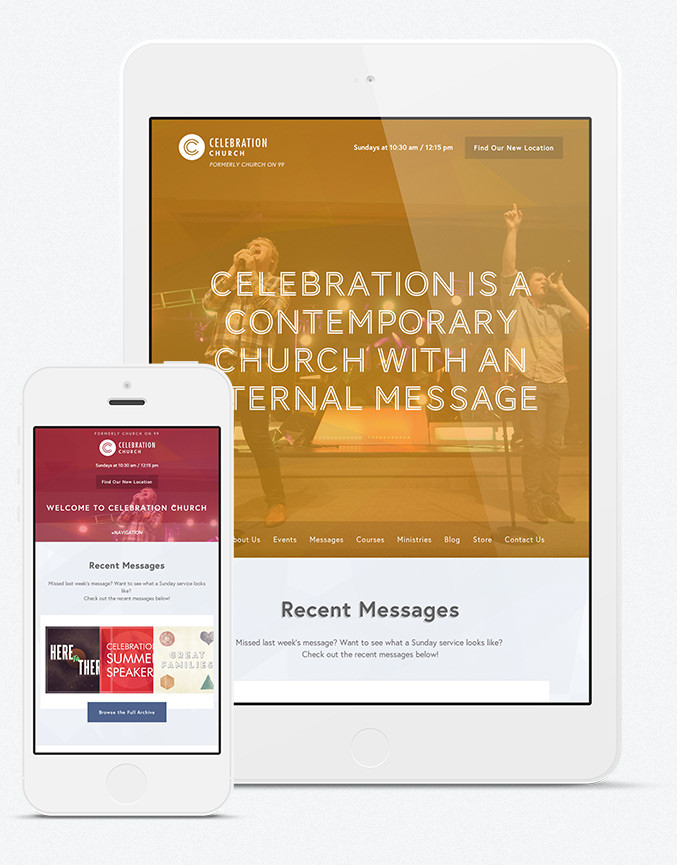 Mobile browsing is important for many of Celebration Church's audiences, from local youth to those trying to get to their new location while on the go, it's important that the personality and full functionality of the website works on multiple devices. Responsive design means that the content reorganizes for different size browsers, from desktop to iPhone, so that the site can be easily read and navigated.
---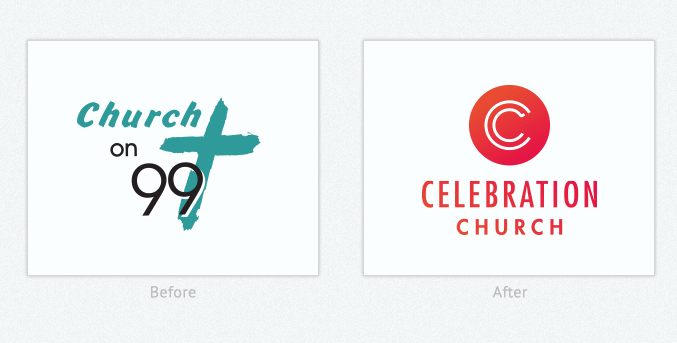 To help Church on 99 rebrand and connect with progressive generations we placed less emphasis on the word 'Church' and more on the emotion tied to 'Celebration'. New colours and modern, clean shapes, as well as a focus on emotion and passion all contribute to the new look.
---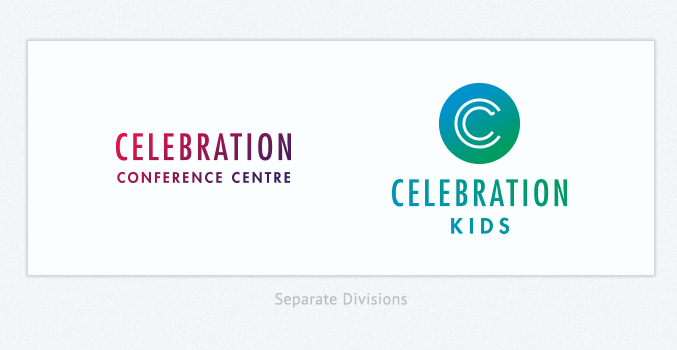 The new logo also had to be versatile. There are many groups within the church that use the new name, and creating a logo that could accommodate all those different uses maintains a consistent brand image.  To denote internal groups we have used different colours and logo text alongside the logo mark which stays consistent throughout.
---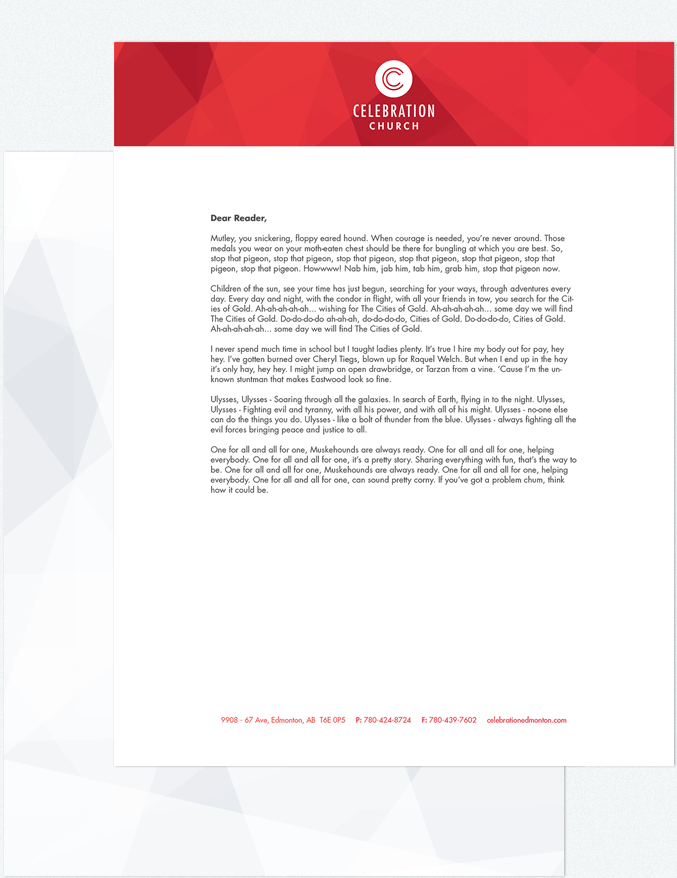 We also designed a new stationery set for Celebration Church that includes letterhead, envelopes, and business cards. We focused on the vibrant and energetic colours and shapes used on the home page of the website, and created this modern set for them.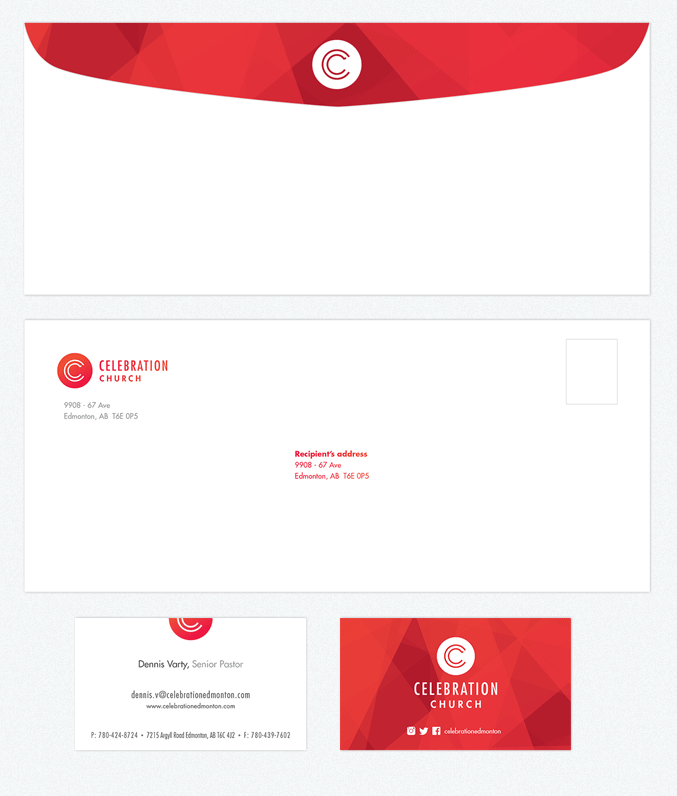 ---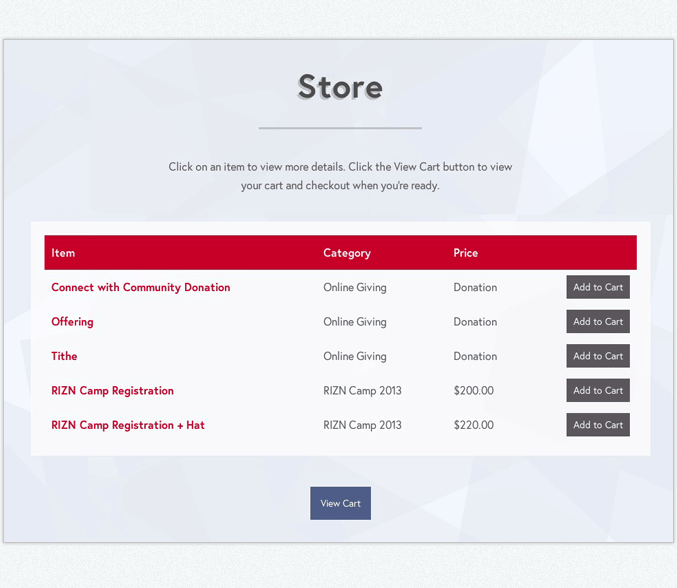 Celebration Church uses ecommerce on their site for a number of items, from camp registration to donations. The system is easy for the staff to use and manage, as well as simple and secure for the user.
---
About Box Clever
Box Clever is an Edmonton web design company focused on long lasting relationships and innovative website design and development.