A New Website for InnoTech Alberta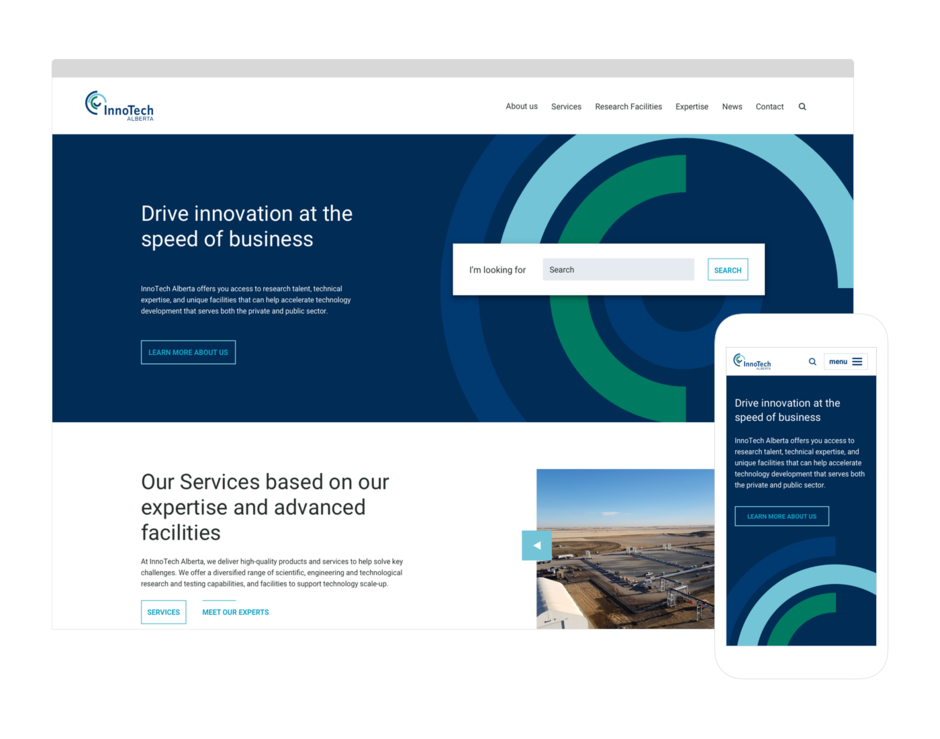 InnoTech Alberta, a subsidiary of Alberta Innovates
InnoTech Alberta's primary focus is to facilitate the conversion of applied research to economic, social and environmental benefits for Alberta.
There were a number of key issues that the new website project aimed to correct. The previous website was outdated and difficult to navigate, website users found it hard to find the information they were looking for. With the absence of a site search functionality, users were forced to use a difficult navigation with many hidden pages to try to find what they were looking for. The website was also built on an outdated platform, so updating content was extremely difficult for InnoTech staff and there were a limited number of staff members who knew how to update the content. This lead to outdated and inaccurate content.

With this information in mind, the new website project focused on two main goals:
 A new, more modern design with updated content to more accurately portray InnoTech Alberta
Improve the website speed. With an average speed of 11-13 seconds, the old website was slow and frustrating to use
Box Clever designed a more modern website with elements focused on InnoTech's unique offerings which communicated their expertise and services to website visitors and key stakeholders. Through careful planning with InnoTech staff, we identified the main focus areas and how to highlight this information.
Improving site speed was accomplished by updating the content management system to WordPress as well as building the new design using modern code techniques. Together this contributed to a decrease in load time from 11-13 seconds  to 1 second!
To read more, check out the case study here. Congrats on your new website InnoTech! 
About Box Clever
Box Clever is an Edmonton web design company focused on long lasting relationships and innovative website design and development.