Box Clever Has Won Some Design Awards!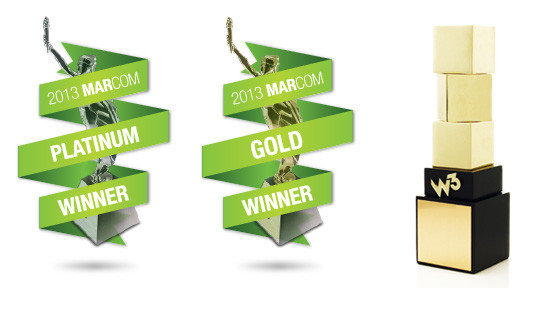 Although we try our best not to toot our own horn, the Box Clever office is positively bursting with pride over the recognition we have received for some of our most recent work.  
Celebration Church Website and Branding 
When Celebration Church approached us about their rebranding and website redesign, we took their tagline of "Church for the Unchurched" and ran with it. Everything about the website is unlike any other church site--from the stylized fonts to the integrated store for tithes and donations, no detail was left behind. For more about this redesign, check out our case study here. 
For all of our hard work on Celebration Church, MARCOM awarded us the Platinum Award for Website/Non-Profit. The MARCOM Awards receive over 6,000 entries per year and reward outstanding achievement and service to the profession. The Awards are administered and judged by the Association of Marketing and Communication Professionals (AMCP). 
Municipality of Crowsnest Pass Website
Working on the website redesign for the Municipality of Crowsnest Pass was a dream for us at Box Clever. They had just executed their own rebranding, and we were able to build off of their fresh, new message for their website. All of the photos were supplied by the client, and they really became the focus for the look and feel of the site. In keeping with Box Clever's signature style, the site features parallax scrolling throughout, as well as a business directory with an integrated map. Each page of the site uses masks over the featured photo in an homage to the shape and design of the Crowsnest Pass logo.
We were pleased to find out that we were awarded another MARCOM Award for this site--this time, a Gold Award for Website/Government. 
Box Clever Website and Branding
The redesign and rebranding of Box Clever is a project that is very close to our hearts. Utilizing our signature mouse-over transitions, unique icons, and responsive design, the new site was designed to showcase our work and identity in a way that would be both aesthetically pleasing and also user-friendly to navigate. 
W3 awarded us a Gold Award for 2013 for the Box Clever website. This award is judged on creativity, navigation, usability, visual design, functionality, and ease of use. We are in great company--also winning a Gold W3 Award for 2013 was Airbnb's mobile app and the Porsche Panamera microsite. For more detailed information regarding the judging criteria and the award program, check out this fact sheet created by the W3 Awards. 
As well, BoxClever.ca was awarded a MARCOM Platinum Award for 2013.
From everyone at Box Clever, we are truly thankful for the recognition in the industry for our hard work on these websites. We look forward to highlighting more of our projects with you as they launch!
About Box Clever
Box Clever is an Edmonton web design company focused on long lasting relationships and innovative website design and development.