Transcend Coffee Website has Launched!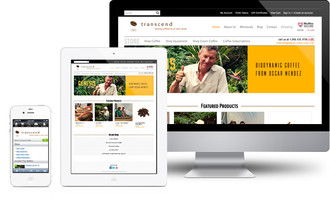 Transcend Coffee, known for their specialty coffee roasting, education, and service, is now the proud owner of an optimized website ready to bring their personality to the web!
Transcend Coffee isn't your average coffee shop down the street, so the optimized website had to do more than just ecommerce. Providing information about what they do and who they are is now easily accessible for visitors, and easily updated by staff. Transcend Coffee staff can now put their heart and soul on the web, educating site visitors about the importance of each step that leads to the great cup of coffee Transcend can supply.
An education about coffee, roasting, and the farmers who bring it to you is all available within a site that lets you purchase exactly what everyone is so excited about. To make the shopping experience even more user friendly we made sure that the coffee lover on the move can still find what they re looking for. The shopping features have been optimized to perform on iOS (and other mobile devices), so you can easily get your favorite beans on the go!
As the first Box Clever ecommerce site, the design of this website had to put the focus on the product. By creating a clean and concise overall theme, the products at Transcend can take centre stage. All design elements lead visitors to information about the products that Transcend has to offer, which unifies the message. Rather than working on keeping up with current trends, we've created a bold and pronounced layout that emphasizes the product and company culture.
Swing by www.transcendcoffee.com for the real thing, and make sure to explore more of our website design in Edmonton!
About Box Clever
Box Clever is an Edmonton web design company focused on long lasting relationships and innovative website design and development.