A stunning new website launched alongside a new brand update for this Western Canadian, family-owned, integrated construction company!
---
About the Client
With over 25 years of experience in construction, Pagnotta has longevity as a dedicated builder specializing in high-rise, mixed-use and commercial projects. From the award of their first project in 1992, the Pagnotta team has been dedicated to the vision of "changing skylines, building futures."
About the Project
Our team had the exciting opportunity of providing Pagnotta with a brand new website design aligned with their recently launched brand update to effectively promote and showcase Pagnotta's three distinct divisions.  
---
The homepage of the new Pagnotta website has been designed as a corporate showcase for Pagnotta. The Pagnotta vision statement is prominently displayed in their hero banner followed by display of the three newly announced divisions, each showing their unique brand colours. Prominent enticers to direct audiences to learn more about the history and work culture of Pagnotta are followed by a company update feed that provides access to the latest news from all areas under Pagnotta.
Pagnotta's blue and white corporate colours have been integrated throughout the website, including on the divisional pages to maintain the understanding that, though each division is unique, Pagnotta is still very much an integrated construction company.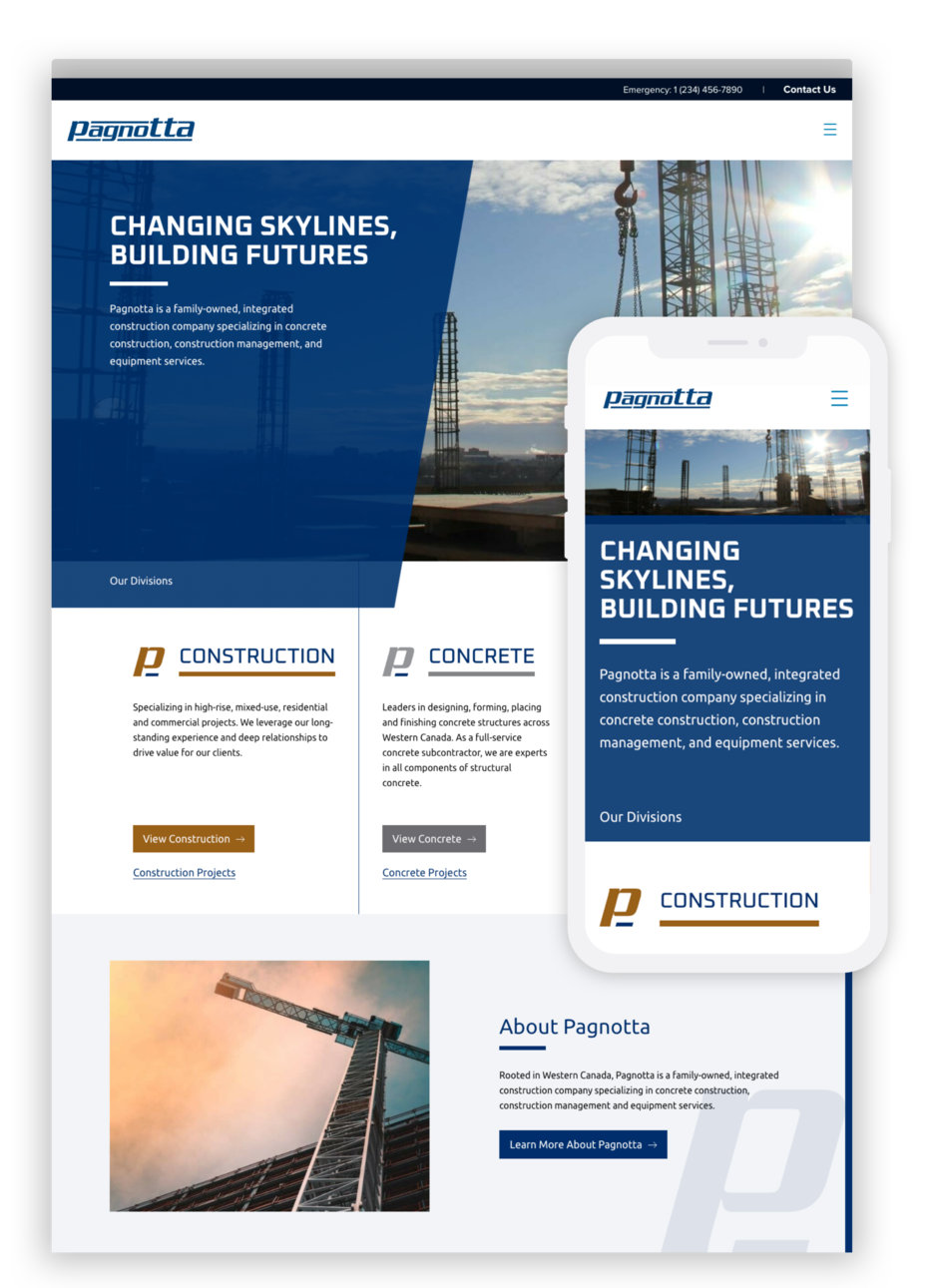 The updated brand colors have been used to provide a clear visual communication to the site audience when they are on a division specific or corporate page.
Each division has been given its own landing page, project listing, Division updates, and navigation styled with the updated division brand colours so that division focused audiences can easily navigate and find content that is relevant to them.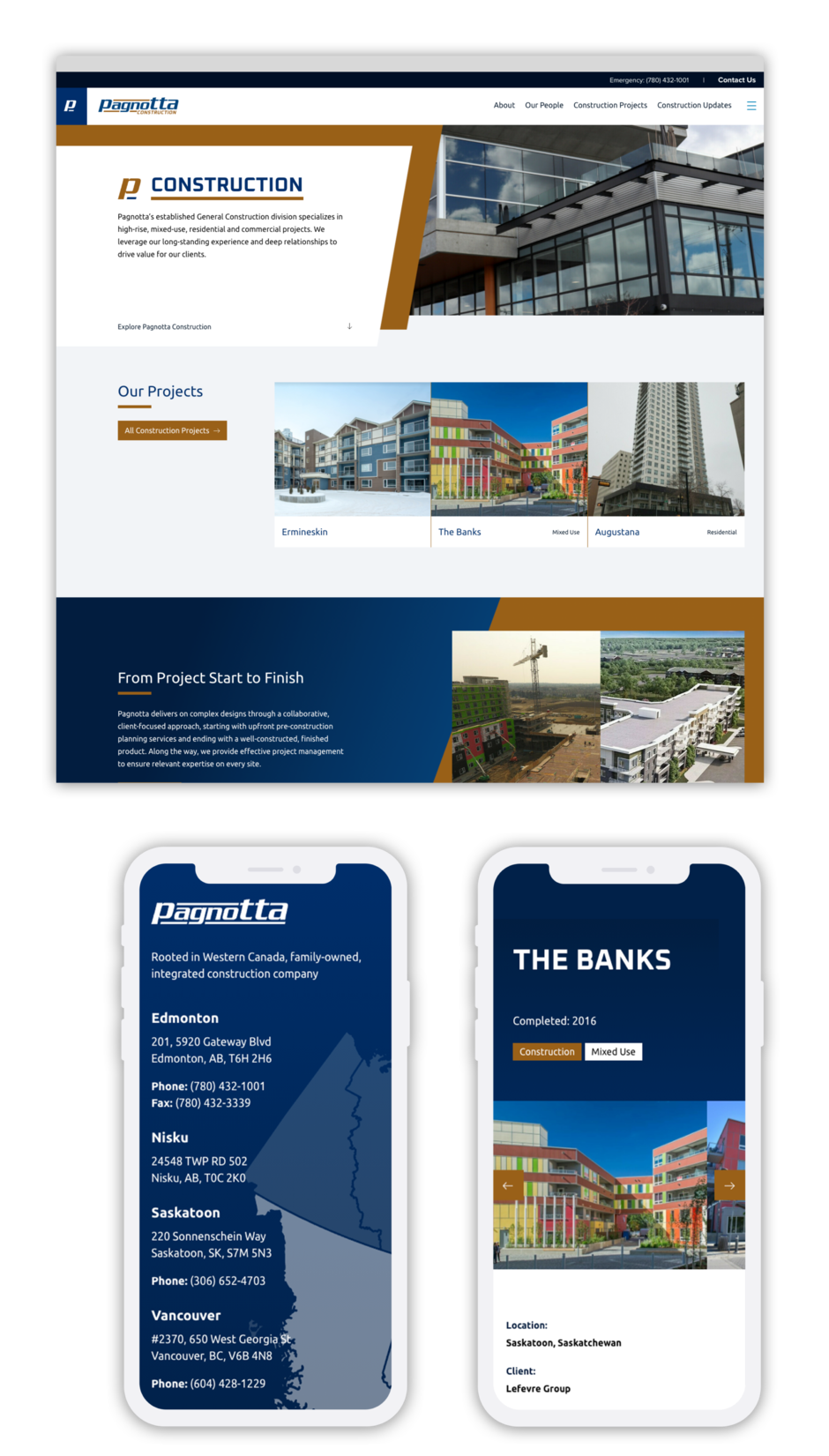 As an integrated construction company, it was important to showcase that Pagnotta's projects were more then just the Concrete work Pagnotta is well known for in Western Canada. 
Working with Pagnotta, our team crafted a custom projects module that would enable Pagnotta to display their projects for a specific division and ensure each project could now have relevant photography and information that would showcase the expertise and skill of that division correctly to its target audience.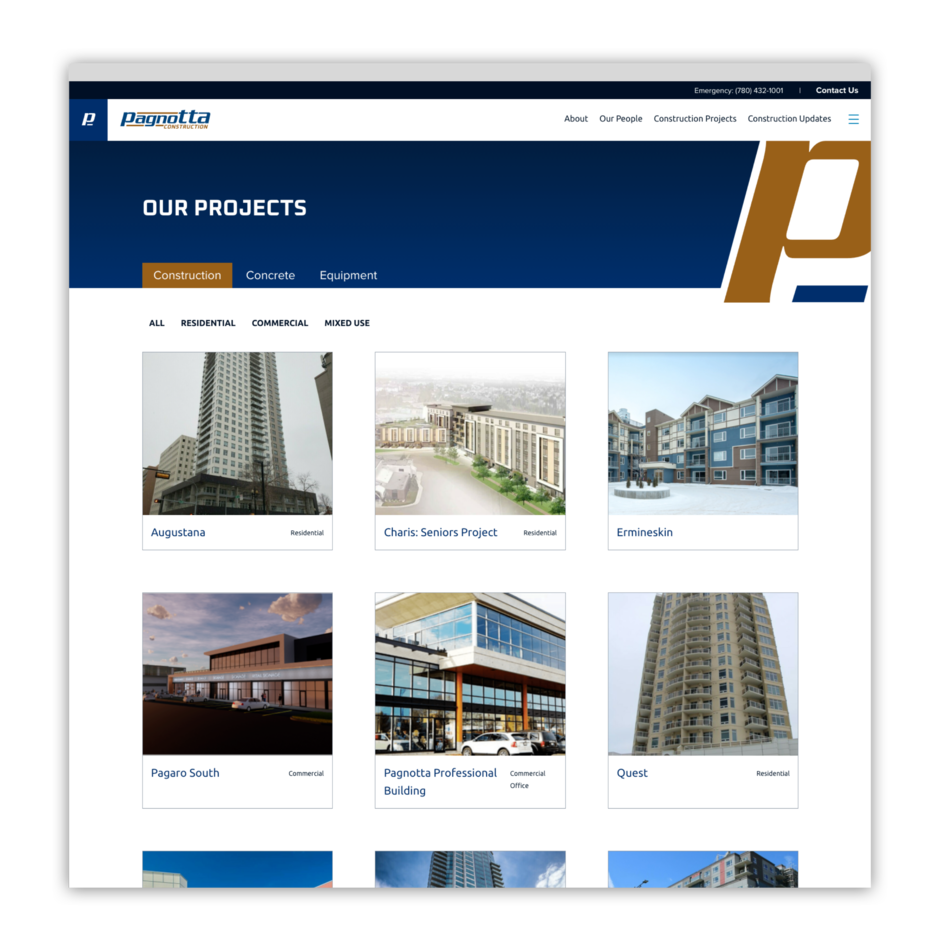 Together with the Pagnotta team, we've created a professional, modern, responsive website that through its design, showcases the uniqueness of Pagnotta's three divisions while maintaining that Pagnotta is still very much an family-owned, integrated construction company serving Western Canada.
You can check out the new site here.
About Box Clever
Box Clever is an Edmonton web design company focused on long lasting relationships and innovative website design and development.